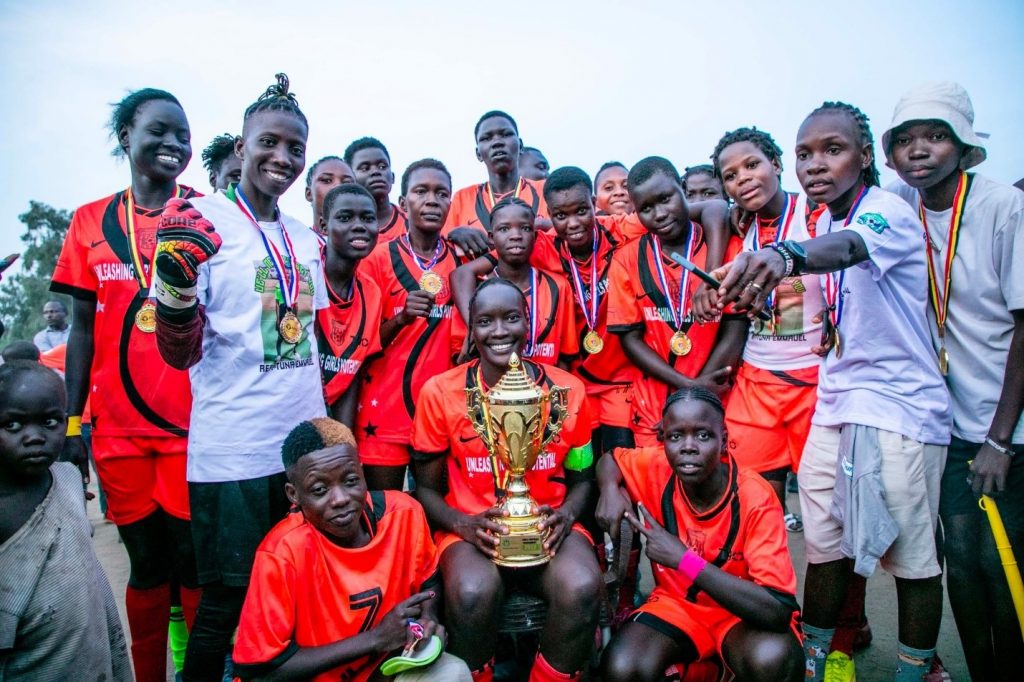 4:2 win in a penalty shootout in favor of Crown FC against Gudele central, making them champions of the 2022 once again.
In a remark, Gatwick Peter the Chairman of the Kulang foundation inc appreciated the UNFPA and other partners for the support they gave to make the event colorful and successful.
In her remarks, the national minister of Health Republic of South Sudan Hon. Yolanda said, that, the society and the Government supports girls to gain skills in sport to equalize, international football standards.
"I ask the parent of these girls to give equal support to both girls and boys when it comes to sports in the country." Hon. Yolanda emphasized.
With a smiling face Dr Adameloa the UNFPA representative expressed that, they are grateful for the support they gave to end child marriage and Gender Base Violence in the country and they will continue giving support to ensure to ensure the wellbeing of its citizens.
"We appreciates each of the 16 participating teams and we will continue to leverage sports to advocate for the rights of women and girls."
Towards the conclusion of the tournament, various players were awarded to encourage their hard work, with both Best goalkeeper Soga Grace and Jacinta (jersey 9) Top scorer of the tournament both from Gudele Central FC
.
SSoga Grace (on the left) and Jacinta jersey 9 receive their awards
Meanwhile Suzy Michael (jersey number 8) from Crown Fc was awarded player of the Tournament with the best coach going out to Zianda of Crown fc .
The Kulang Foundation Inc. was established as an appreciation and recognition from Elder Peter Kulang and his sons, family members, friends and well-wishers in many parts of the world who support the vision of bridging the educational gap that emanated from the civil war that hit our beloved country rendering most of our youthful citizen with limited educational opportunities.
Kulang Foundation Inc. exists and operates as a family Foundation inspired by desire to support humanity and the spirit of giving back to the society as inscribed in the Christian values. Members of Kulang family established the Foundation as a platform of sharing the dreams and inspiration Great Elder Kulang and supporting the less privileged and vulnerable individuals and communities to realize their potentials and dreams through various form of assistance such as relief, development, education and general training programs.